Welcome to my first year participating in the ihomeschoolnetwork's "Not" Back to School Blog Hop!!  Each week during the blog hop homeschool bloggers will be posting different things about their homeschool for this upcoming year!  Here is the schedule for blog posts:
Wk 1: Curriculum Week
Wk 2: School Room Week
Wk 3: Student Photo Week
Wk 4: Day in the Life Week
Since this is the first year we are 'officially' homeschooling we are still learning quite a bit around here!  We did PreSchool and PreK with our oldest over the past 2 years, but this year is kindergarten so a lot more material and more of a schedule is needed!  These are my plans for this year, but I fully expect them to change up some as we find out what works best for our oldest and for our family!
For Garrett, our 5 yr old in Kindergarten we plan to use the following:
Sonlight Core A which includes his history, geography, read alouds and Bible work.
Sonlight Language Arts 1 with readers
Sonlight Science A Biology, Botany & Physics
Horizons Math K Package
Handwriting without Tears K Package
Sonlight Electives A Package which includes Art and Physical Education
Reading Eggs & ABC Mouse for fun suppliments
Basically, we have used Sonlight for the past couple of years for their preschool programs (P 3/4 and P 4/5 with K readers) and have really enjoyed their program.  I like that everything is all put together for me and I don't have to try to piece together a curriculum.  Being a first time homeschool mom this is really important and I don't feel too overwhelmed with all of the choices out there!

For Lillian our 2 year old tot schooler:
I plan to let her participate in the read alouds, bible work, calendar time etc with her older brother, but do not plan to force her to do it with us.
I also plan to use some of the ideas from 1+1+1=1 Tot School  We'll see how she does with things and go from there.  Learning at this age is just fun right??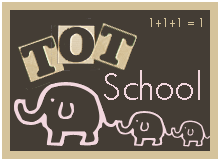 For both kids and as a family we plan to continue using the following:
-Signing Time and Baby Signing Time program and DVDs.  We LOVE Signing Time and have been watching their DVDs ever since Garrett was a baby!  Both kids are quite good with sign language and we all can not wait to start teaching our newest addition Amalia who is 5 months old very very soon!!
-Little Pim program and DVDs in French and German.  We started using this program about a year ago and really like it.  It is a great introductory program to different foreign languages for kids.
-What's in the Bible DVDs.  This is a recent discovery for us and we only have the first DVD so far, but we really like it and plan to add to our collection in the very near future!
So that is it for here!!  It seems like a lot all written out like that but I know we will be able to handle the workload.  Garrett is very excited to get started on everything!  If you are homeschooling what curriculum have you put together for this year?  Be sure to go over and check out all of the other bloggers curriculum at ihomeschoolnetwork!
**disclaimer: Some of the links in this post are affiliate links and I will earn a small profit if you click through these links and make a purchase.  Everything I have written here is solely my opinion and not influenced by these links at all.**